Kids lion hearted efforts!
Kids lion hearted baking efforts help out zoo mission! The kindergarten children have been working very hard towards organising a fundraiser for a new Lion Enclosure at the Melbourne Zoo. After weeks of discussion, planning and baking, the kindergarten children's dream became a reality. On Wednesday 23rd April the children hosted a cake stall in the foyer of Anne Sgro between the hours of 8am and 10am; the children welcomed the customers to the stall and explained why they were raising money. Without assistance the children collected the money from the customers and placed their orders into a bag for them and thanked them for their contribution. The children chose to dress up in lion costumes and were lucky enough to have Danielle painting the children's faces. The kinder children had a special visitor during the cake stall, Angie from the Moreland Leader Newspaper, who photographed the children in action and wrote an article about the important job the children were doing to raise money for a new Lion Enclosure at the Melbourne Zoo.
Explore more from the Blog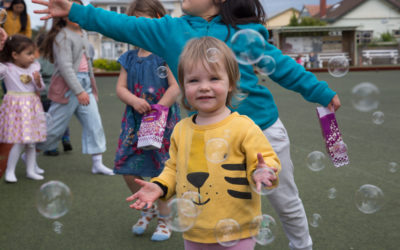 Super cute.Anne Sgro Children's Centre hosted its first Family Fun Day Fundraiser on Sunday 27 October 2019. The aim of the day was to get the families of the Centre together to enjoy an afternoon of fun, whilst raising some funds for the Centre's Sustainability...
read more